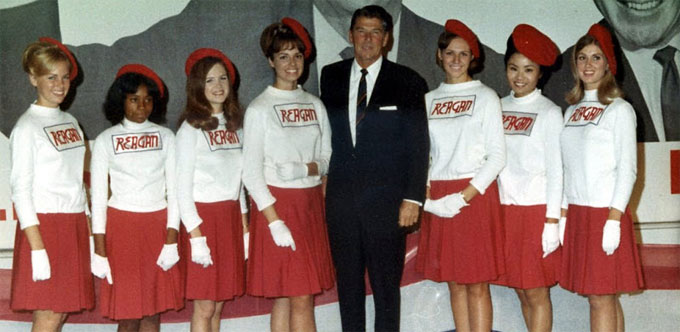 Q: I appreciate your effort, but it looks like your Trump Tie Sale isn't doing much to stem The Great Toolbag Rebellion of 2015. The latest polls show that Trump is now "the clear leader in the race for the GOP nomination."
Is it time for all MBs in arms to take up more extreme measures and get a Hillary t-shirt?
— Alex
A: $30 for a "union printed, American made" t-shirt that's 50 percent polyester? Seems a bit expensive to us. For comparison's sake, Bernie Sanders is offering a 100 percent cotton t-shirt that is "union-made and printed in the USA" for half the price — $15. So we guess we know who UNITE HERE is backing.
We also think that stylish campaign-wear is extremely difficult to pull off. In fact, the only successful effort we can think of off-hand is Ronald Reagan's cheerleading squad from the 1966 California gubernatorial election.
So we're going to pass on the t-shirts for now and just take our chances in November 2016. If worse comes to worst, our bunker is stocked with more than enough Bulleit and Apfelkorn to see us through the Trumpacolypse.
EARLIER: How Donald Trump inspired our sale.