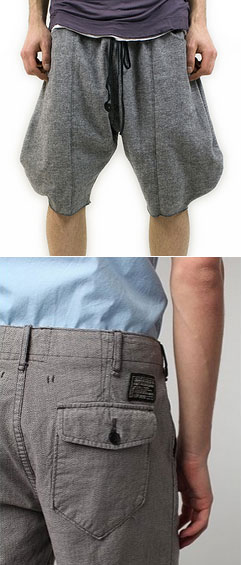 Q: With summer upon us how about some advice on appropriate shorts for the hot months. And which footwear to combine with them. Thanks.
--Jim

As our recent post on Dorts suggest, it's much easier to find awful shorts this season than good ones. We almost think the Obama Administration has enlisted the world's shorts designers in an ingenious propaganda campaign. If someone pays $288 for Odyn Vovk's seamed balloon shorts (top), or $365 for Chronicles of Never's oversized parachute shorts, or $231 for Tim Hamilton's apparent bid to corner the market on black-tie Mormon underwear, then the recession must be officially over.

But there are some good shorts out there, or at least one pair. We love the color, texture, and inseam length of these Obey Whalers, and we're pretty sure our tailor will be happy to excise the overly wordy logo tag for a six-pack of Schlitz. $58. (They fit true to size.)

We will address the footwear part of your question next week.