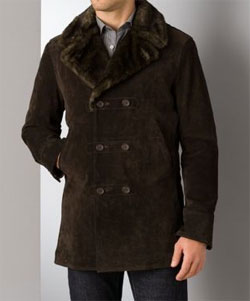 Q: I would hope that you are continuing your search for the perfect peacoat this year. It is a bit early in the season, but have you found any potential candidates? Price is not a factor.
--Aaron

A: Aaron, if you haven't noticed, as a result of the economy, most fall 2009 collections suck pretty hard, and peacoats are no exception. There is one standout, though, and it's this John Varvatos Star USA suede model. A real statement piece. The only bummer is that the collar is faux fur (principle of organic materials).

If $895 is too rich, GQ just published a Best Coats Under $500 piece that's worth checking out.