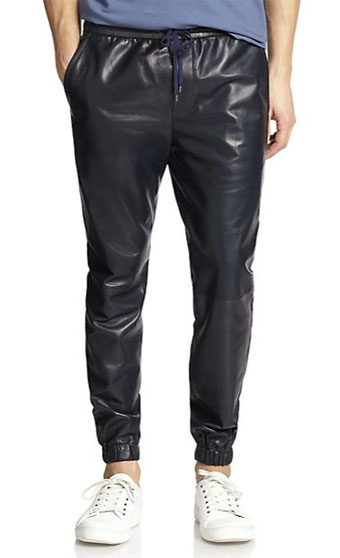 Q: Please weigh in heavily on the jogger pants trend that is sweeping shamefully across the country.
— Dave
If we ever find ourselves on the tennis courts at the Red Raider Community Fitness Facility in April or October, we like cotton sweatpants for the first 20 minutes or so. We also endorse cashmere sweatpants under the following conditions: Intercontinental plane travel; domestic train travel that spans at least three states; recovery from any surgery that pushes you over your out-of-pocket maximum for the year; and house arrest.
Beyond that, we cast a wary eye toward sweatpants, loungewear, joggers, or whatever you want to call them.
Now, granted, in the era when we initially developed this wariness, sweatpants came in two main varieties: Shiny silk or shapeless polar fleece.
The new generation of sweatpants offers an alternative to such fare. They're cut more closely, they come in cotton, wool, and cashmere, and when designers aren't trying too hard to make them novel or sporty, there are an abundance of good options to choose from if you need a pair for any of the purposes we describe above.
And this current abundance doesn't surprise us — we see it as the inevitable consequence of aging millennials seeking relief from the unforgiving skinny jeans of their higher-metabolism youth. And of course it's yet another manifestation of culture's primary shaping force over the last 40 years or so — business casual.
But despite the significant advances in sweatpants manufacture, we don't find ourselves wanting to wear them more often. While $300 tailored sweatpants are certainly a step up from onesies, they still strike us as somewhat infantile when worn in nightclubs, restaurants, etc. And at work they cross the chasm from business casual to trying too hard (TTH).
Indeed, if your need to gamify your Monday morning meeting is so strong that you leave your colleagues wondering if you're planning to dunk on them or just share your thoughts on the Q3 revenue forecasts, you are spending way too much time at the office and not enough time engaging in actual leisure. Put on a belt, knot up your tie, and pour yourself a drink. Work shouldn't be that strenuous.