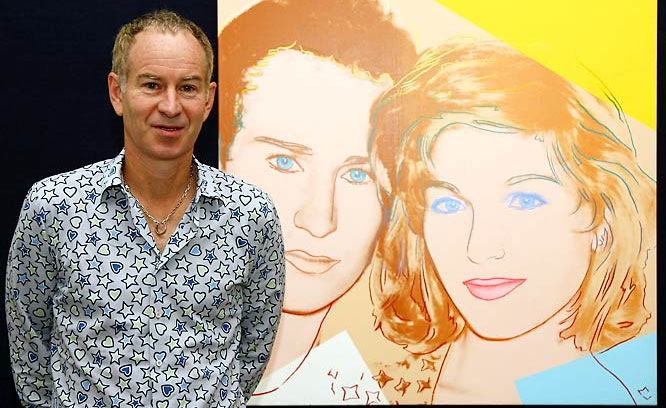 Q: Several years back, I found a photo of John McEnroe wearing a shirt I like and I've yet to have it identified. It is a button down, looks to be light blue and has a print of small stars and small moons on it. Hoping you can help. Thanks.
—Eric
A: That shirt? You cannot be serious! In all candor, this is not a shirt we would recommend — it looks to our eye like a bowl of Lucky Charms designed by Commes Des Garcons. But it is a distinctive shirt, we'll grant you (and McEnroe) that, and we like a good quest as well as anyone.
The photo you've provided was taken on June 23, 2008, at Sotheby's, when McEnroe was selling a Warhol portrait of him and his ex-wife Tatum O'Neal.
McEnroe was clearly trying to coordinate his outfit with the painting — note its use of stars and similar shades of blue. The stars also remind us a bit of another Warhol painting — So Many Stars — but we don't think the shirt itself is a Warhol; the linework is too polished.
Also, the shirt was definitely not part of the deal, because we see McEnroe wearing it again, two years later, at the Tribeca Film Festival in 2010 (along with a horribly fitting blazer).
Unfortunately, the trail runs cold after that, at least for us. We couldn't find anymore images of the shirt in action, or any information about its provenance.
So we're putting this out there to our readers. Do you recognize this shirt? If you do, let us know. First person who can help us definitively ID this shirt will get a Secret Agent Belt from us, in recognition of his/her superior sleuthing skills. And if we do make an ID, we'll post it here.
UPDATE 9/22 11:07 AM: Reader Robert quickly supplies us with an answer: "Johnny Macs horrible shirt? You seem to have overlooked the hearts in the print. A 2 minute Google with that detail and..... It seems very likely that Prada is the responsible designer."
We swear we searched for at least three minutes, on hearts, and all we found was Harry Styles in a Burberry shirt. So we salute your superior sleuthing skills, Robert; a Secret Agent Belt will be on the way to you soon.
As for the shirt itself — it looks like Prada introduced this pattern, in various colorways, in its Spring 2006 collection. We haven't seen any for sale in the exact colorway McEnroe sports, but here's something close.