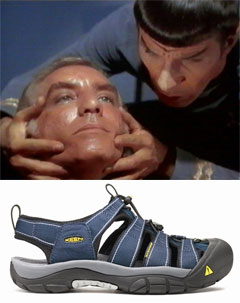 Q: I'm an avid reader... and have to say... you're starting to read my mind. Last night, my wife and I were watching TV -- and saw the belt bug spray fan-thing. I said, I bet the MB would NOT approve of that. She agreed and said it looks like a flea collar. Now, less than 12 hours later, you post something on it. You da man.

Now here's a situation that you're sure to agree with me. I bought these shoes. They have the feel of Crocs (though, I must say I have NEVER owned a pair.) I plan to wear them to the pool, at the beach and when we go whitewater rafting. But the other day, I saw someone wear a pair to the movies. When will toolbags learn?
--John

A: John, we may need to graduate you to full-on Vulcan mind-meld. The fact that you mentioned Crocs in the same breath as a recent footwear purchase should set off alarm bells. Do you still have the receipt?

We're strongly opposed to this entire genre of footwear, whether it be Crocs, Keen, or Teva. These are for the fleece and granola set, where MBs are as rare as a dodo bird.

Incidentally, for the rafting we recommend an old pair of Jack Purcells. They work great and look amazing.