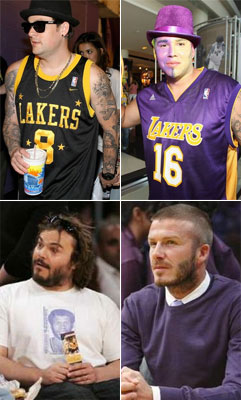 Q: As a recent college graduate, and as a Staples Center suite ticket owner, what is appropriate attire for Lakers games? I know a jersey and jeans just wont cut it. Thanks for your help!
--Chris

A: A recent college graduate and Staples Center suite owner? Pace yourself, Chris. You don't want to peak too early.

Anyhow, a jersey and jeans is indeed out. Just have a look at Joel Madden and this other jersey and foam-finger wearing fella (top). Don't be that guy. For the celebrity set there's an ongoing competition to see who can most successfully affect the just-rolled-out-of-bed-and-showed-up-at-Lakers-game look. Jack Black, we declare you the winner. In spite of the unfortunate fact that your team's primary color is purple, we recommend trying to look like a fan without trying too hard, like David Beckham in this barely-purple fine-knit crewneck sweater (-tie).

Game 1 on Thursday, Chris, and we'll be there in spirit. In reality, we'll be in Pulaski, WI.