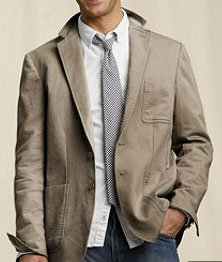 Q: Lands' End has started a line called Canvas, and it looks like they're trying to corner the more bastardly market. What do you think - are they TTH?
--Jordan

A: Thanks for the tip, Jordan. We took a look, and while inexpensive, any reasonable person would agree Canvas all looks a little too Lands' End-y. Except for the chino blazer, which is sticking out like a stylish, artfully disheveled sore thumb. 2 buttons, shirt shoulder, patch pockets, functional buttonholes, machine washable, and $69.50. If it's anywhere near what it looks like on paper, we'll get one in khaki and navy.

UPDATE: The blazer shown has 3 buttons, not 2 as described on the Lands' End web site. The sleeves are also the equivalent of a S. If you are a R or L, they will be too short. This was a return.