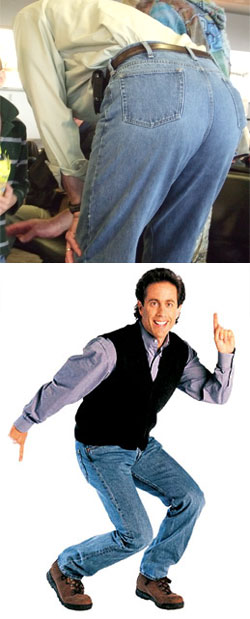 Q: As an early 40's MB whose M has slipped a bit, what do you recommend as the basic wardrobe essentials for bring it back?
--RG

A: As a one-time true MB, your perceived slippage probably has less to do with wardrobe selection than it does with hair loss, weight gain, or your wife going to pot. Instead of having an affair, try two far less expensive options:

Denim: We see far too many aging men wind up in "Dad Jeans" (top) -- aka "Jerry Seinfeld Jeans" (bottom). Get into a good pair of denim; something that's not Levi's tapered high-rise.

Footwear: Something else we see far too much of: white New Balance running shoes. These have become the Hush Puppies of aging Gen-Xers. Along with your new jeans, try a pair of Campers, or Adidas Originals, or anything from Puma's Alexander McQueen collection, and start getting your M back.