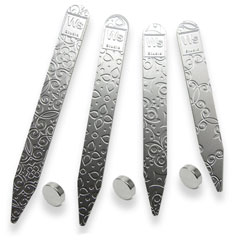 Please tell me that this is one of the dumbest things an MB has ever seen: http://www.wurkinstiffs.com/.

Magnetic collar stays? "Super strong magnetic buttons give you the unique ability to adjust your collar's spread on a whim, creating multiple different looks with the same shirt"? Ummm, how about just buying a shirt with a spread that you like and wearing it as it was tailored?
--Kevin

A: Who knew this much thought went into collar stays? Whenever we buy a shirt with collar stays they're immediately tossed in the trash, simply because they greatly inhibit the MB Prime Directive: artful dishevelment.