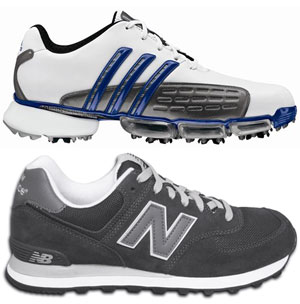 Q: I need to buy a new pair of magnificent golf shoes, but I don't really know where to look. Any ideas??? Thanks!
--Blake

A: Unfortunately golf shoes have followed in the footsteps of running shoes and gone all ugly space-age (top), when MBs just want the golf shoe equivalent of New Balance 574s (bottom).

It's difficult to offer suggestions in such a depressed golf shoe environment, but last season's Puma Club Shoe works and is on sale for $70. Also keep your eyes on eBay for Adidas and Puma models when they were cool, like back in 2008.