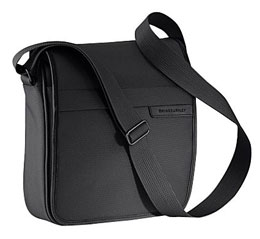 Q: I'm a college kid that has recently started working. I need a bag that I can take to work that's small -- to carry stuff like my mp3 player, headphones, a sandwich, and my water bottle. For the past few months, I've been using the Briggs & Riley Map Bag (in black), here. Is this MB? I don't want a full size messenger or a briefcase because I'm not really carrying that much stuff. Suggestions?

A: A map bag? Are you planning an invasion?

This looks a little man-pursey to us, though you've chosen wisely from the Briggs & Riley collection. The rest of it has a fatal case of Tumi-itus. But why the bag in the first place? What MP3 player is so big it needs a bag? You can slip a small, cell phone-like device into the front pocket of your pants or the interior pocket of your blazer (the preferred MB method) and you're good to go. Carrying a sandwich around with you all day is a health hazard, a style faux pas, and technologically obsolete -- just make sure your device of choice has an app to find the nearest restaurant. And also an app to find the nearest drinking fountain.