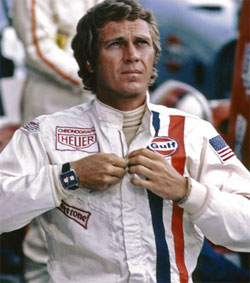 Q: I work for a jeweler and would like to buy my brother a watch. He will be retiring from the USMC this coming fall and will need a civilian watch. Are Tag Heuer, Tissot, or Movado MB-approved? If not, brand recommendations?
--Jennifer

A: McQueen wore a Tag Heuer, but so does Tiger Woods, and that's a dealbreaker because he's a toolbag. Tissot makes some nice watches and the price is right. Movado is far too civilian-y and fragile-looking for a guy who could probably survive for a week solely on bullets and Marlboros.

We'd suggest going with something sporty and perhaps even military-inspired. He'll always be a Marine. Take a look at Westcoastime for some very affordable options. For a little more money, you could not go wrong with an Omega Seamaster. Works for Bond. If you're interested in becoming All-Time Favorite Sister of All-Time, see what kind of discount you can get on a Panerai.