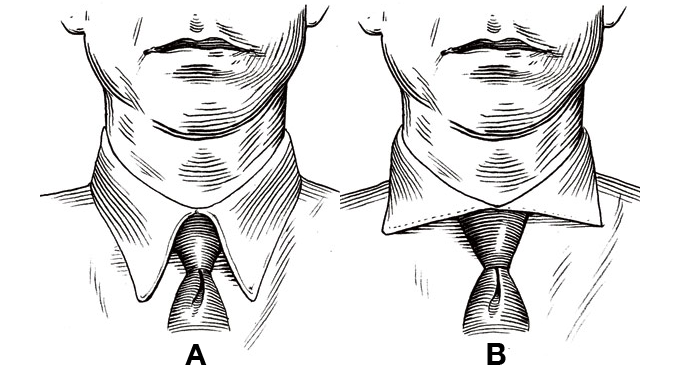 Q: I think the Kakutani is calling my name. But I've got a problem. I like spread collars, and I know your stance on them. Is it possible you've made the Kakutani so magnificent it works with spread collars even if I'm not Adrian Brody or that dude in The Scream?
—Alex
A: We want the world to wear our ties. In fact, we might even sell one to Donald Trump if he asked nicely. And given how acquainted you are with our back catalog, we'd like to do right by you and tell you, sure, go ahead and wear the Kakutani with a spread collar.
Unfortunately, we can't do that. Yes, it is such a good-looking tie that you and many others might be tempted to wear it with a spread collar just show off as much of its fabric as possible. Resist that urge!
Granted, this is not as clear-cut as a Müller-Lyer illusion, but look at these illustrations from Esquire. B's neck and face look thicker and wider than A's, and yet the neck and face (and tie) are exactly the same in each drawing. Only the collar in B is different.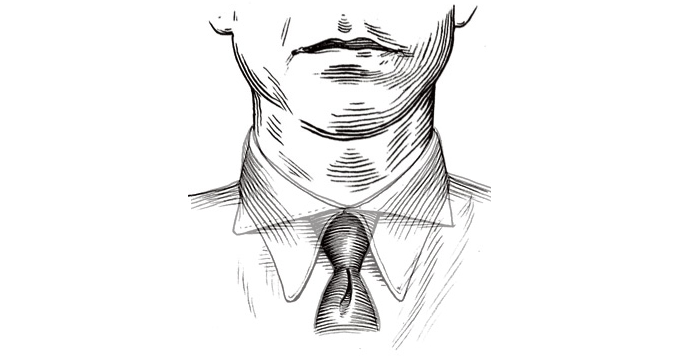 Conclusion: Spread collars instantly fatten your face and neck. And we can't let you do that to yourself, even if it means missing out on a sale. We will not sell you a Kakutani if you're planning to wear it with a spread collar.
Earlier: The Guy from Edvard Munch's The Scream should wear a spread collar.