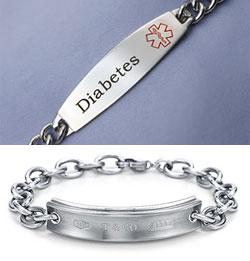 Q: Hey guys, love the site and what you're doing. I was wondering what your take on medical identification (i.e. bracelets, dog tags, and the like) was. I've been a type 1 diabetic for over nine years and have always refused to wear medical ID's because they tend to make people feel sorry for you ... and because most of the ones that I've seen, look ridiculous. However, recent events have brought to light the necessity of wearing a medical ID and I can thus no longer ignore the issue. What type of medical ID would say "hell yea I have diabetes, what about it?", while still maintaining the fashion style of an MB?
--Iain

A: Here are the options as we see them:

Option A: Wear a necklace. They are barely visible 95% of the time and will indicate your medical need when necessary. If you're like us and can't stand things hanging from your neck, then...

Option B: This stainless bracelet (top) is $14.00 and is better-looking than any medical ID accessory we've seen.

Option C: If you are feeling flush, with the help of Tiffany you could make a one-of-a kind piece to last a lifetime. Buy a Tiffany 1837 I.D. bracelet (bottom) and work with their customer service -- and they are all about customer service -- to get the custom engraving your body needs.