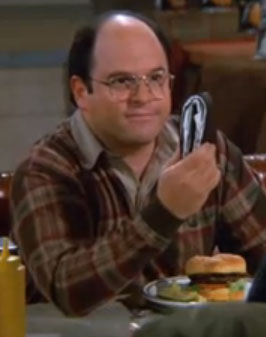 Q: Let's talk about Bastardic pockets/pocket gear. Am I correct in the belief that inside an MB's pockets there should only be a minimalistic non-George Costanza wallet, a maximum of 2 keys with no obtrusive keyring and a cellphone? Keys and wallet on the left, phone on the right and party in the middle. Oh, and a mini Altoids tin in the coin pocket of your jeans, as this eliminates that offensive sound of announcing your arrival by walking. I have this Dopp wallet which I think is MB...your thoughts?
--Robert

A: We've previously endorsed minimal, non-George Costanza wallets. Specifically, the MAKR CARRY GOODS "One" ($60) made from free-range cattle each given a loving pat on the head before being shipped to slaughter, and Malcolm Fontier's polyurethane "Mojito" ($29) for more highly evolved types.

While Dopp certainly has a pedigree -- German immigrant Charles Doppelt invented the toiletry case in 1919 -- a magnet seems like an especially bad materials choice for a money clip. Besides potentially demagnetizing something like a room key, the clip's effectivness diminishes in proportion to the more cash an MB is carrying.