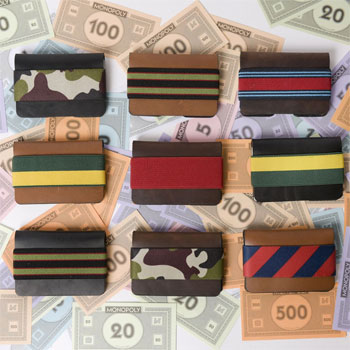 Q: Love the site. Sorry don't have a burning menswear question other than, I was wondering, how many cards fit in the wallet you current stock? I like the look, but need to carry 2 credits and some other flat cards (library, insurance, metro) and am wondering if they'll all fit.
—AJL
AJL, as much as we'd like to sell another Minimum Viable Wallet — available in Horween Chromexcel Black, Horween Chromexcel Brown, and Horween Latigo Tan — we cannot ensure its viability under the conditions you describe.
The Minimum Viable Wallet doesn't just boast a simple construction. It demands a simple life. While it can fit five cards, or even ten if, paradoxically, you have great patience and a lot of credit card debt, we designed it to work best with just three cards. It's a bit of choice architecture that keeps us judicious about what we really need in life — our driver's license, our Coutts World Silk Card, and of course our Trump Card.
Those three cards plus a wad of cash keeps us prepared but nimble. While we admire your commitment to intellectual development (library card) and urban sustainability (metro), the honest unvarnished truth is that because we optimized the MVW for the three cards we use, each additional card you add to the equation becomes infinitesimally more difficult to remove and insert. And we didn't create this wallet to make life more complicated — we created it to make life simpler!
If you ever decide to give up reading, planning for the worst, and one of your credit cards, let us know. Only then will we be able to sell you an MVW in good conscience.