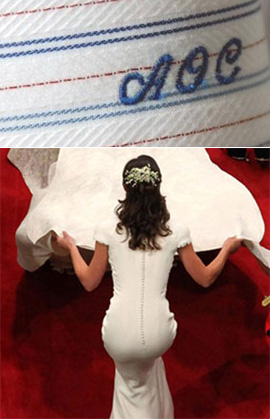 Q: I've searched the MB site and been a long time reader but cannot find anything about monograms. Pockets, cuffs? Which if either is Magnificent? A reputation is hanging on this. Thanks.
—T

A: In the context of clothing, monograms started out as a way for rich people to communicate with their launderers. "These are my shirts," a monogram says. "Return them to me, not Saltonstall."

Over time, monograms evolved into a way for anyone to communicate with people who can't afford a Kindle. "I can afford to spend $5 extra per shirt at Lands' End," a monogram says. "Meanwhile, you're just sitting there reading my shirt. Dick." Do you get what we're saying here? Monograms violate the principle of understatement, and are best left to the Donald Trumps of the world.

Plus, monograms are essentially tattoos for your clothes, and therefore just as superfluous on a truly beautiful shirt as, say, a tiny butterfly would be on Pippa Middleton's ass. Why further adorn that which is already perfect?