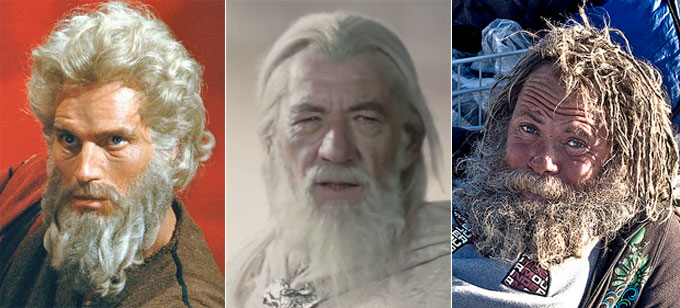 Q: A bit of MB guidance would be much appreciated, please. Before we begin, I must let you know that I neither create nor dictate my husband's appearance in any way. You see, he is quite the Magnificent Bastard already; however, some clarity is needed in the grooming department. He currently has a full beard and is growing out his wavy locks indefinitely. For years, my husband's hair was quite short and very sexy. The beard is also fairly new, but not in question. How (if at all) can he grow his hair out and maintain a professional appearance? I should mention that his hair is thinning due to male-pattern baldness. I have always said that this isn't a problem at all and when embraced, is confidently attractive. While George Carlin is fucking hilarious and his legend lives on, I don't want to sleep next to his ponytail.
—The Wife
Unless your husband is a religious prophet, a wizard, or a homeless guy, we don't think growing out his beard and what's left of his hair is likely to enhance his professionalism.
The Grizzly Adams look is surprisingly tough to master. Just look at Brad Pitt, Joaquin Phoenix, and Saddam Hussein for proof of this statement.
Add male pattern baldness to the equation, and the odds against successfully pulling off this look only increase. Best to avoid it, and to follow our long-standing advice to men who are getting thin on top.