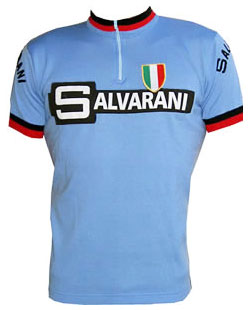 Q: Dear MB-- My husband has taken up bicycling as his new fitness routine/hobby. I am distressed every time I see him ride off in his bicycling gear, covered with more endorsements than a NASCAR vehicle. What do you suggest?
--Mrs. M.

A: The good news, Mrs. M, is that whatever logo-clad clown suit your husband is frightening the neighborhood children with, it could probably be worse.

The bad news is that if you're doing it right, you can't help but violate key MB principles when wearing cycling attire -- at least if you plan to break 25mph on occasion. To maximize aerodynamics and minimize chafing, cycling clothes are supposed to be obscenely tight-fitting. To maximize visibility and minimize the chance of decorating some texting soccer mom's hood, they're supposed to be garishly bright.

The really bad news is that tight-fitting, garish, but still relatively tasteful gear is easy to find -- so if your husband's peddling around town looking like a graphic designer's resume, it's because he wants to.

To wean him gently from this bad habit, we recommend this Salvarani replica, in 100% merino wool. While we don't care much for even the tiniest logos, never mind ones that can be seen from 100 yards, any logo that requires a $250,000 sewing machine to make is OK in our book.

For a cycling jersey so restrained even Kasimir Malevich could love it, go straight to the Rapha Club Jersey in Winter White.

From one's waist to one's ankles, only solid black is allowed. For a final touch, treat your husband to a pair of Dromarti Sportivos. Five minutes in these handmade Italian beauties, and he will never feel the urge to wear anything featuring a dye-sublimated logo again.