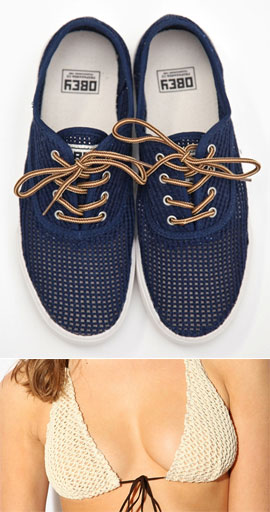 Q: Hey guys: Love the website, and a couple of times it's stopped me from making a fashion mistake - I appreciate it. Anyway, I saw these on Gear Patrol and wondered what you thought. They're not crocs or thongs, and I thought the blue ones would look good with some white jeans. I will defer to your expertise though.
--David

A: Obey and Generic Surplus are both brands we like, but this plimsoll-boat shoe fusion (top) has us imagining comical sunburn patterns we'd just as soon avoid. We say: Women alone should bear the risk of skin-exposing mesh (bottom).

If you want a navy boat shoe, there is always Sperry, of course, but we also like the Oak Street Bootmakers version, made from Horween Chromexcel and handcrafted and handstitched in the USA.

As for navy plimsolls, Lyle and Scott's version hail from the island where the word was invented, and we also really like Superga's take on them.

Finally, we applaud your choice of white jeans. Here in the upper midwest we're just weeks away from being able to wear them, and tomorrow we'll list a few of our favorites.