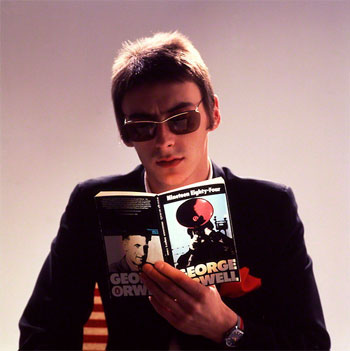 Q: What make/model of sunglasses has Paul Weller been wearing for the last 20+ years? Gold / single wing in gold across the top / rimless brown lenses. Seemed to be wearing them from mid '80s onward. Maddening....
—Andy
A: Andy, we asked our eyewear expert about these frames and he's confident Weller's glasses are a 1960s frame by Amor.
What's unique about these frames is they use a double-stick adhesive strip to mount the lens to the top rim. We're not making this up: the lenses are literally taped to the frame, using 1960s-era adhesive technology.
Which may account for their relative rarity today and also Weller's enduring allegiance to them. Fragile attachments often exert a strong psychic pull on us.
Anyway, you probably want to know how realistic it is to get your hands on a pair if you're not a fastidious rockstar with a well-cultivated and sufficiently capitalized sense of style.
Well, you're in luck. Not only does our eyewear expert Allyn Scura have a pair of the frames in stock — he also believes he's found the supplier of that double-stick adhesive tape. Send a note to info@allynscura.com if you're interested in a pair.
And speaking of Allyn — we haven't been doing our annual Allyn Scura Eyewear Contest for quite as long as Paul Weller has been wearing his Amor sunglasses, but we're just as attached to it. Next week, we'll be launching our 8th edition of the Contest. As always, the winner will get a pair of Allyn Scura frames (or credit towards a vintage pair). And there will be a bunch of MB goodies for the runners up. Please check back and enter to win.
PICTURED: Paul Weller reading George Orwell's 1984 in what looks like a Martini Racing watch strap. We have that strap (plus two others of your choosing!) available on a wallet in brown, black, and tan.