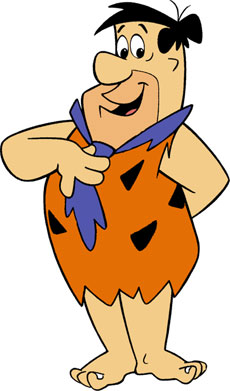 This not a question so much as a fear and I believe you guys can help. Summer will be here and in parts of the US it will be happening sooner. Men should and will be wearing sandals. The problem is, and you've addressed one problem (the lack of a pedicure) which is bad but the choice of sandal is also important. A thong type as opposed to the crisscross or strap. On some men the crisscross and strap type make men look like Fred Flintstone. Could you come up with some guidelines?
--John (from Ireland)

A: Yeah, we take a backseat to no one about the importance of a pedicure. Last June was Pedicure Awareness Month and this June will be no different. It's the MB version of The Golden Rule: don't expose nasty-ass toes to others.

Fred Flintstone lived in the Pre-Footwear Era, which makes his car-driving even more remarkable. Imagine the wickedly painful blisters most men would get powering a stone-wheeled auto with their feet. Anyhow, we don't see that big of a stylistic difference between thong and crisscross/strap, to be honest. They can both work. One type of sandal we do avoid is a strap/crisscross that covers too much toe. This has an unflattering chubbing-up, holy-crap-that-dude-has-an-ingrown-toenail effect. You'll know it when you see it.