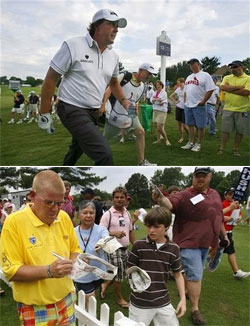 Q: I recently noticed Phil Mickelson wearing golf shirts with shorter than standard short sleeves. As a guy with short muscular arms I would love to get shirts with these extra short sleeves. Where does he get them or are they made special for him?
--Ron

A: Phil Mickelson has a large endorsement deal with Callaway, so it's a very safe bet they make his shirts. And, being the #2 player in the world, he can get Callaway to make anything he wants. (Though someone at Callaway should have the courage to tell Phil to add a little material around the torso. It's looking increasingly sausage-like, with a side of manboobs.)

Anyhow, we strongly endorse shorter sleeves on polos, especially if you have pipes worthy of display. The sleeve length on many of today's golf shirts, one can't tell if they're short long-sleeves or long short-sleeves (see John Daly at last week's St. Jude Classic). But don't make this a big concern. You can have your golf shirt sleeves shortened to taste by a tailor for $10-$15. And if you're cursed with Mickelson's waistline, try to find a tailor who moonlights as a plastic surgeon.