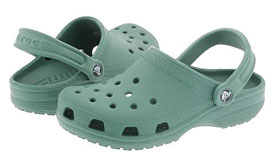 Q: I am fully on board with your preference for vintage sneakers (Jack Purcells, etc.) for casual wear and would like to get on board. There's just one problem: I have plantar fasciitis, and my podiatrist says it won't get better if I wear unsupportive shoes. By supportive, he means shoes with a 3/4 length nylon shank built into the mid sole - i.e. a shoe that has a rigid arch. I can't seem to find any casual sneakers with this feature. There are plenty of running/athletic shoes out there, but they are only MB approved for their intended function. Are there any MB approved shoes that I can wear to the ballpark, rock concert, the beach, etc that will give me the support I need?
--Mark

A: What the hell do we look like? Dr. Scholl?

A few weeks ago when the Washington Post wrote about the demise of Crocs (and George Clooney being their only hope), several commenters were crushed by the news because Crocs were the only thing that relieved their plantar fasciitis. Some additional Googling and it seems to be true: Crocs help plantar fasciitis. So we say get a pair, wrap them in silver duct tape, and if anyone asks about what the heck is on your feet, tell them they came recommended by Dr. Scholl.