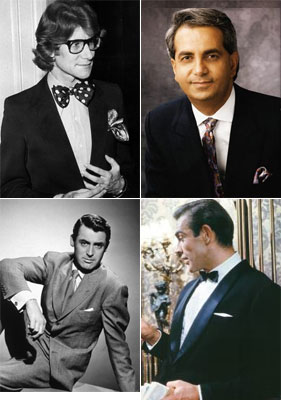 Q: Where does the MB fall on pocket squares? It has been my new accessory this year. Thumbs up or thumbs down?
--John

A: Thumbs up, depending on the material they're made of and how you fold them. Once we apply a Magnificent Bastard principle here and a universal rule there, a pocket square-wearing framework quickly emerges:

Matte vs. Gloss   MBs almost always choose matte over gloss, which means choosing pocket squares made from cotton or linen vs. silk or (the horror!) synthetic. Yes, it's possible to nail silk but this is best left to Yves Saint Laurent (upper left). Otherwise you might end up looking like some sleazy televangelist like, say, Benny Hinn (upper right).

Occam's Razor   Though he lived 700 years ago, Franciscan friar William of Occam weighed in on pocket square folds, eschewing any with unnecessary steps, like the four-point fold. Instead, choose the one-point as demonstrated by Cary Grant (bottom left), or our favorite, the flat fold just peeking out of your breast pocket, as demonstrated by 007.