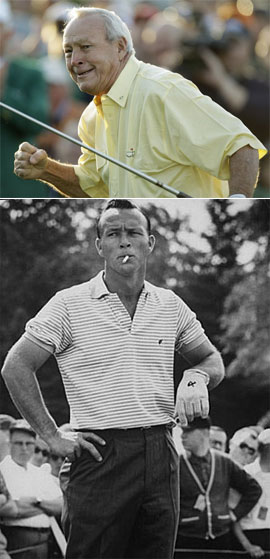 Q: I have a bit of an issue with polo shirts. I'm 5'6 with an athletic/weight-trained physique. I normally wear either a L or XL golf/polo shirt...my issue is, the length of short sleeve. Some of these shirts come down past my elbow. Could you recommend a golf/polo shirt with a shorter length short sleeve? I'm not liking the thought of having to take them to be tailored down. Your thoughts?
—Stephen

A: We've spent $20 to have sleeves shortened on otherwise-perfect $10 t-shirts, so we know and appreciate the importance of precise sleeve length. (For tees we're not quite at Brando cap-sleeve territory, but within an inch or two.)

As for polos, anything that comes down past the elbow are for old people (top). But if you really like the shirts that have longer sleeves, pay for their shortening surgery. You won't regret it. If you're looking for shirts that already come with short sleeves, Lacoste is an obvious choice if you prefer banded sleeves, like The King used to (bottom). If you prefer no logo, J. Crew's vintage tailored polos show just enough bicep to verify your absence of a barbed-wired tattoo. Wyatt, which makes our favorite polo shirt at the moment and, as far as we can tell, is only available at bluefly, offers a similar cut with open sleeves.