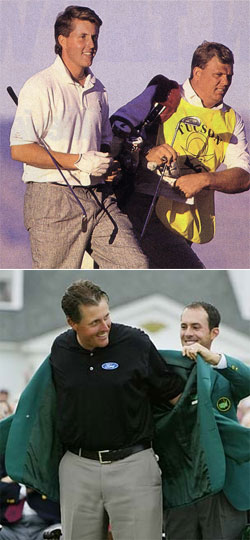 Q: What's your view on popping your collar? More specifically with polo shirts? Is it ever alright or is it a bad idea? Thanks MB.
— Tom

A: Well Tom, your question is answered simply by observing Phil Mickelson's career.

Top: In 1991, as a 20 year-old amateur with a popped polo shirt collar, Phil Mickelson won the Tucson Open and had to don that ridiculous conquistador's golden helmet.

Bottom: 13 years later, with an un-popped polo shirt collar (not to mention flat front pants), Phil Mickelson wins The Masters and slips into a green jacket.