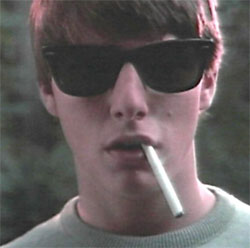 Q: It seems like the Ray-Ban Wayfarers are making a comeback. Are they too iconic to be MB? Or, should you buy them now so that in 5 years when they're really popular you can say "already got them"?
--Stephen

A: You needed to buy them 5 years *ago* so that today they could tell everyone, "Already got them, yo." Or just change the subject. Isn't this weather great? While they're still popular, an MB is not following the crowd this late in the game.

Here's the deal: Ray-Ban was bought from Bausch & Lomb by Luxottica in the '90s. They wanted to put their own mark on the brand, throwing away 50 years of American spirit. When tastemakers started wearing vintage Wayfarers in the early/mid 2000s, Luxottica decided to reissue the original style. They prominently placed fucking logos on the front of the frame and on each temple to make sure it was distinguished from copycats. When B&L first issued the Wayfarer, it simply had the "football" shaped shields on the fronts and temples (like our friend Joel, pictured) and an understated "BL" etched into the corner of the lenses. If you must wear a Wayfarer today -- and we don't recommend it -- insist on the original American-made versions.