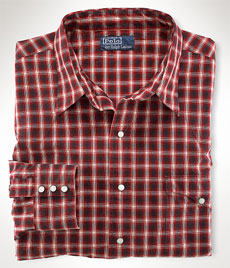 Q: It's getting hard to find cool sport shirts that aren't fitted or slim fit. I know what you're going to say, but they don't look good on everyone, and it would be much worse to wear a shirt that's too tight. Any solutions that don't include going to the gym?
--Adam

A: Geez, based on recent questions you'd think MB was some kind of shaving and workout-crazed American version of the Taliban. No, but perhaps menswear designers are trying to tell us all something: mix in a salad!

Adam, we recommen- Put that doughnut down! We recommend looking at Polo (preferably without the player logo). Even Ralph Lauren has jumped pretty heavily onto the "slim" bandwagon, and maybe his shirts are not the kind of cool you were thinking of, but the "classic" fit and Big & Tall have always been designed with a thicker American man in mind.