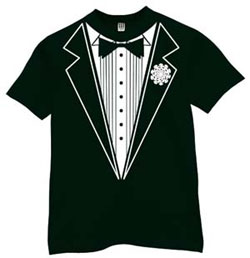 Q: I have a black tie wedding to attend. I don't have the financial clout to buy myself a good tux so my question is, if I'm renting what style would be the best?
--Warren

A: Your limited financial clout has put you between a rock and a hard place, Warren. A couple of options to consider:

Option A: Find a formalwear rental place in your area that carries something designer and wool and with two buttons.

Option B: For a little more money, log onto ebay and rent to own.

Either way, avoid the $75 polyester special. When you factor in the post-wedding trip to the dermatologist, it's actually going to be the more expensive (not to mention least stylish) option.