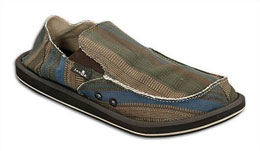 Q: Sanuk. Bastardly, or not? I figure if it's good enough for Brad Pitt, it's good enough for me.
--CJ

A: Maybe because Brad Pitt wears them, maybe because of their frayed edges and unstructured construction, Sanuk sidewalk surfers have apparently fooled a lot of people into thinking they are something other than Crocs for homeless surfers. They aren't, and if you're thinking about getting a pair, only do so if you're extremely angry at your feet and want to play a practical joke on them.

Why don't we like Sanuks? It starts with the logo, which looks like some handless logo designer tried to draw one of our favorite 1970s designs -- the iconic smiley face logo -- with her mouth. Or maybe her ear.

Then there's the names of their shoes: the Vagabond, the Hobo, the Dylan, the Kerouac. We've never actually seen a vagabond, a hobo, or Bob Dylan wearing these things -- where is the model called The Sunburnt Project Manager Doing Jaeger Shots at a Bar in Boca Raton While His Wife Quietly Contemplates a Divorce?

Finally, there's the sandals themselves. That thick ungainly slab of foam they call a sole. The overly broad vamp. The weird, leaning-tower-of-Pisa tilt every model seems afflicted with. Put all this together, and what you've got is a shoe that looks like it was made by aborigine orthopedists for fellow tribesmen suffering from posterior tibial tendon dysfunction.

But don't just take our word for it. Here what some of the Sanuk's biggest fans have to say about them at Zappos.com:



* My wife thinks they are hideous but I like the appearance as well as the comfort.

* Thought I could get away wearing these without socks at work and realized feet sweat too much and start to stink.

* Comfy but sweaty and VERY STINKY...The smell is intolerable at this point.

* Sanuk Rules the roost!!! I thought Crocs were the most comfortable things I have ever put on my feet until I met Sanuk's!!! These shoes are off the hook when it comes to comfort.

* They are also great for some hacky sackin.



If such vivid first-hand testimony fails to convince you that there's nothing bastardly about these things, nothing will.