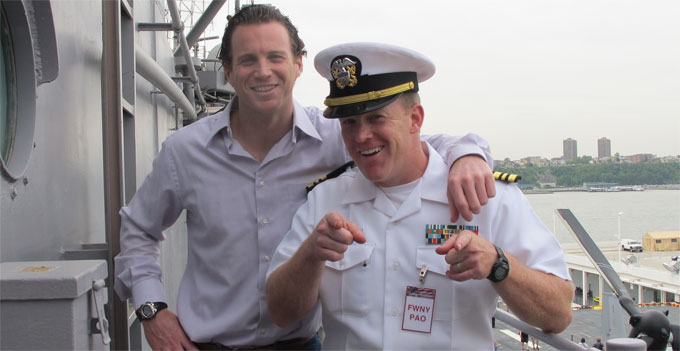 Q: How awesome is our new press secretary's sense of style?
—Dave
A: Dave, we appreciate the hanging curveball. And yet... we're not quite ready to fire Sean Spicer. Why? Adaptability.
Yes, Donald Trump's new spokesman looks like a high-school wrestling coach crossed with a fire hydrant. Supergirl appears to tower over him, as does everyone else.) Plus, he's carrying at least 30 extra pounds, a combination that makes him resemble a slab of precast concrete. Clone him half a dozen times, and his boss's border wall would be nearly complete.
But while Spicer kicked off his career as Donald Trump's squattest spokesmodel ever with a meme-starting, career-threatening performance, we've also seen him make significant improvement in just one week. In light of this, we're withholding final judgment for now, and in the spirit of bipartisan style guidance, holding him up as an object lesson for all to learn from.
Let's break it down to date.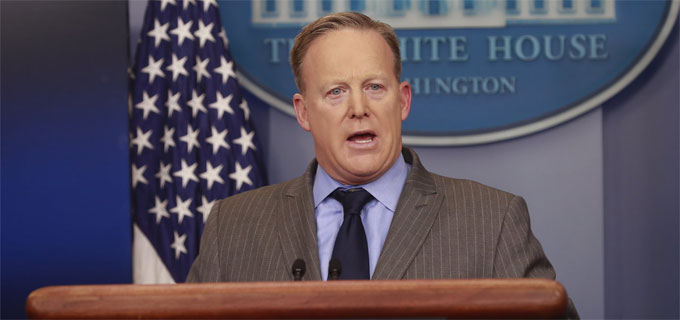 Day 0: Possibly the last man on earth who should be wearing a spread collar wore one. Then he paired it incorrectly with a four-in-hand knot and a jacket that engulfed him even more thoroughly than the XXL podium. If Spicer was trying to set the bar low, he succeeded. And yet even with this disastrous start there was a point of light: No stupid flag pin, or those other ugly lapel pins that Team Trump uses to indicate who shall be spared when the Purge begins.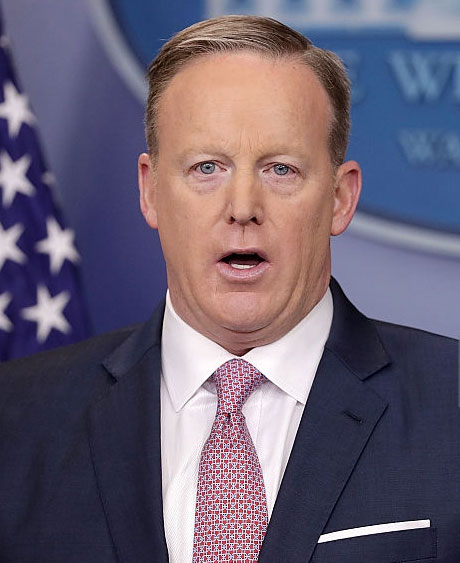 Day 1: The ridiculously huge jacket gape is gone but the lapels are too narrow for his body shape and his tie. (Lapels and ties need to echo each other.) The spread collar has been replaced with something resembling a point. It's nothing we'd ever wear, but at least he now looks he could hold down the weekend anchor spot in a mid-sized market.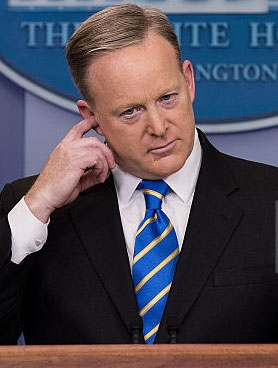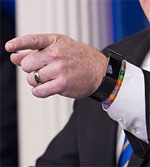 Day 2: He's starting to pull it together. Lapels and tie roughly match, and both are in a weight that matches his age and body type. Point collar + four-in-hand is proper. Okay, wait a second ... one step forward, and three steps back. The .50 caliber wedding ring is bad enough, and then a fucking jelly bean bracelet? We know it says "Dad" on it. But we're still assuming this is some kind of Fancy Bear hack and thus won't hold Mr. Spicer totally accountable.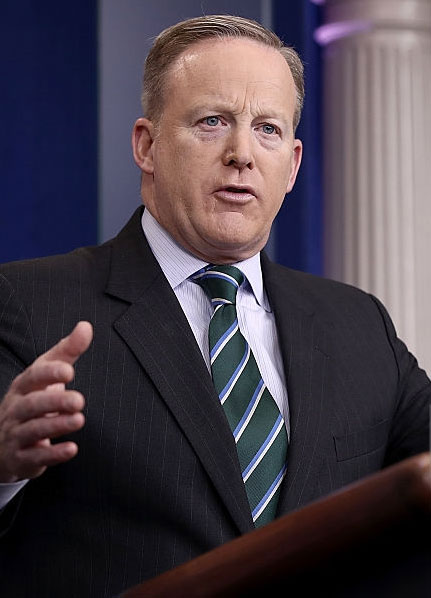 Day 3: More of the same from Day 2. But the jacket fits and the proportions make sense.
For now, at least, we'll give him a two-fisted finger gun for effort and improvement.