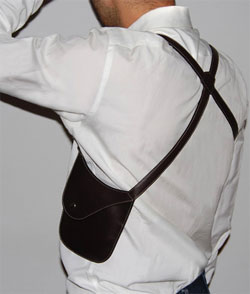 Q: I'm planning on traveling to some rather unsavory places. Is there an MB alternative to money belts?
--Jet-Setting Bastard

A: Assuming you're going to be spending some time overseas and not just a weekend in Detroit, the belt's problem is that it doesn't have a place for your passport.

We've previously ripped on the YMYL Holster for being focused on holding an MP3 player instead of, say, a weapon. But in this case it will suit your needs pretty well. Combine with a couple unstructured blazers and a Beretta 418, you're jet-setting safely, and in style.