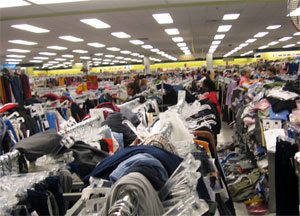 Q: What is your opinion on shopping at Ross? I know that 99% of the stuff there is unusable, but occasionally you can find a hidden gem. It also seems like a good place to start if you don't have much in the pocketbook.
--Cheap Bastard

A: The nearest Ross Dress For Less (from our Pulaski, WI offices) is 491 miles away in Monaca, PA, so we're not terribly familiar with the place, though highly amusing online reviews make it sound similar to a 3rd-world bazaar, only more chaotic. And a 1% success rate is not worth it if you have to interact with The Great Unwashed in search of deals on underwear and striped sport shirts.

Do what we do: build a fire, pour yourself a glass of scotch, and click through the "Sale" links on our site's home page. There are great deals to be had from the comfort of your own home. Accompanying headbuzz just a nice bonus.