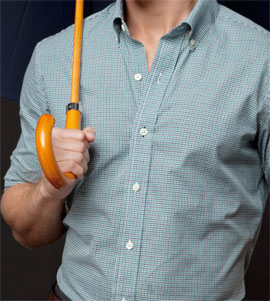 Q: I'm a 6' 3" fellow with long arms and a long torso. I've been looking around for some casual button downs to wear untucked but all of the ones that I've found, the sleeves have been at least an inch too short. I wear slim-fit shirts and, short of ordering custom tailored and rolling up every button down shirt I own, where would you suggest I purchase shirts that are both casual and not too expensive?
--Jacob

A: Jacob, we're in the same boat and know exactly what you mean. Why don't shirtmakers make off-the-rack garments for tall, sinewy lads like us? It's discriminatory!

If you can't be bothered going the custom shirt route (see our feature on custom shirts), we've found a shirtmaker that meets your needs, with the possible exception of price: Philadelphia-based Commonwealth Proper makes just 20 copies of each shirt (in the USA) and releases a few new versions each month. Their large will fit you like a glove, but don't just take our word for it. You can find out for yourself with a free home try-on by emailing your address to try@commonwealthproper.com.