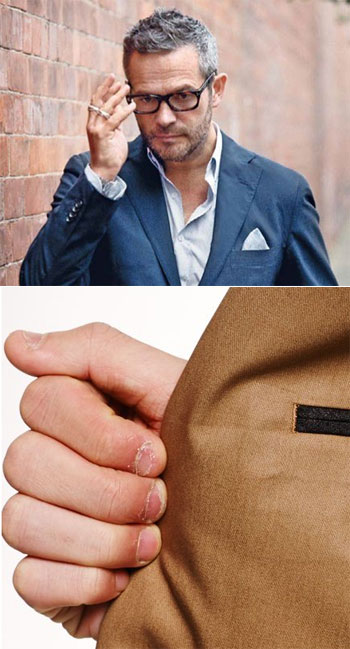 Q: MB, ran across this while waiting for a cut this morning. Got me thinking of getting a spring blazer. Love the blazer and the look. Found this at J. Crew this afternoon.
2.5" lapels but it's only $171 this week with a 25% discount. Lapels too narrow?
—Eric
A: Are you trolling us? On the very day we lament the unfortunate Ludlowization of the suit market, you send us a link to a J. Crew blazer that bears the mark of the beast!
For the most part, we think you are showing the right instincts. An unconstructed, patch-pocketed blue blazer is an essential item in any man's wardrobe. And we like the cut and color of Brûlé's blazer, even if we're somewhat wary that it violates our prohibition against garments where linen retains a majority ownership stake in the blend.
But you already seem to know one of the big problems with that J. Crew blazer. Its lapels are so skinny they could have served as Matthew McConaughey's body double in Dallas Buyer's Club. We're also not crazy about its tint. The blue of Brûlé's jacket has a natural organic depth to it. The Crew version has a slightly electrified sheen that makes us think of Chris Kattan and Will Ferrell dancing the night away.
The overall impact? Even J. Crew's model is desperately trying to claw his way out of that Ludlow! Look at the poor guy's fingernails.
Our recommendation: Spend a little more than you were perhaps hoping to spend, and get into this blazer from Z Zegna — assuming it's the right size for you. If it's not, keep looking for something with wider lapels and a subtler shading. The gratification you feel when getting a great deal lasts for a moment. The gratification you get from wearing exactly what you want to be wearing lasts much longer.