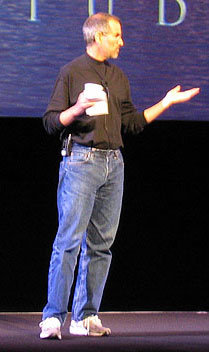 So what do you think of Apple founder Steve Jobs' sense of style? These days, he almost always wears the same outfit in public, consisting of: 1) black mock turtleneck; 2) jeans; 3) white or grey New Balance sneakers; and 4) iPhone. Is it just me, or does this technological visionary dress like a toolbag?
--Evan

A: We haven't specifically addressed Jobs' particular sense of "style," but your sense of the MB ethos is strong, Evan.

- mock turtleneck
- jeans. Poor Steve could learn about AG. That high-rise, tapered Levi's soccer-dad cut just isn't appropriate for a technological visionary. Or really anyone.
- white New Balance sneakers
- iPhone

Verdict: total toolbag.