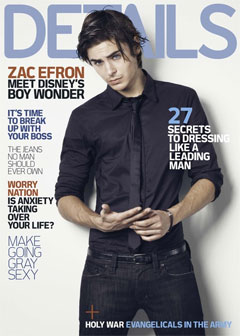 Q: I know that you have long heralded the death of skinny ties, and I mostly agree. However, a skinny (not too skinny, though) tie can be worn well in some situations. I am very young (18), very tall (6'4") and thin. Sometimes I like to wear a black suit with slim lapels and a white shirt and top it off with a slim black tie. Given my circumstances, is this really that bad? Can one not pull off the skinny tie with the right body and suit? Thanks.
--Bo

A: Waiter! Another round of Dewar's. Rocks.

Bo, leave the skinny (even not too skinny) ties to guys like Zac Efron, who use them to appear 5'3" instead of 5'1". Use your God-given stature to your advantage, and try a play on scale, with a short, wide tie ... and a different colored suit.