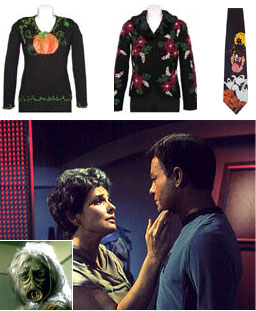 Q: A woman in my office who normally dresses quite nicely was wearing a holiday sweater today.

And so, I have several questions:

1.) Would a Magnificent Bastard be caught dead dating a holiday sweater-wearing woman?
A: Remember that old Star Trek episode -- appropriately called "The Man Trap" -- where Bones thought he was in lust with a vaguely hot older woman named Nancy, but it turned out "she" was actually a homicidal, hideous shape-shifting Salt Creature from the planet M113? You catching our drift here, doc?

2.) Which is uglier? The Halloween sweater or the Christmas sweater?
A: After 12 rounds, our 3-judge staff rules this a split decision.

3.) What is the male equivalent to holiday sweater? The thing that should be avoided at all costs.
A: That's an easy one: the Tazmanian Devil Halloween tie. ($15).