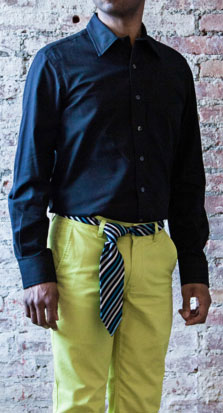 Q: As a longtime reader of MB I was surprised to see you recommend wearing a tie around your waist to accessorize. Seems to me that's veering pretty close to trying to hard. I mean, you really think this is a good look? Take a look.
—Charles
A: Charles, we concur that wearing a full-figured tie as a belt is TTH. And if you think spread collars and the requisite Windsor knot worn around your neck makes your face look fatter, guess what it does to your ass if you wear a Windsor around your waist!
Our recommendation, on the other hand, was Joseph Kandell, who was laid off as a Barney's skinny tie, but then upskilled in NYC with D-rings and an Italian leather tab.
We're not saying this look is for everyone — our product copy states that "we figure maybe one in a thousand can wear these things successfully" — but given the right event and otherwise quiet dress, this accessory wins.
Earlier: Joseph Kandell's LinkedIn Profile