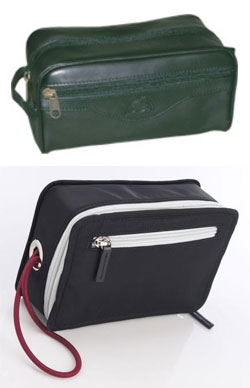 I am looking for the quintessential Dopp kit for my world travels. Is the answer leather or nylon? Love the site.
--J. Leisure

A: Mr. Leisure, if you're checking bags you should go with the quintesential Dopp kit: a real Dopp kit (top, $60). It's leather, so it satisfies the organic materials principle, and will easily fit into your steamer trunk, with room to spare for your hat box.

If you're carrying on then space is at a premium, and while it's unfortunately not from a cow's hide, we're really, really liking this "kailua" case (bottom, $45) from Malcolm Fontier. Just enough room for the essentials, and thanks to Richard Reid, you can't put your lotion and shaving cream in there anyhow.