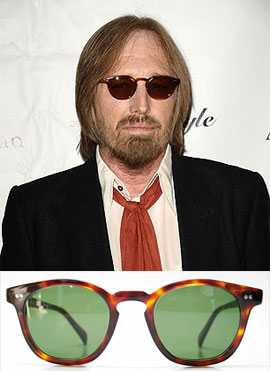 Q: Any idea what kind of sunglasses Tom Petty's wearing in this picture? I really like their simplicity.
—Steve

A: We're not sure of Petty's exact make or model, but you can approximate this look with the Allyn Scura Legend — an MB favorite — with brown lenses. These are also favored by Bradley Cooper in the A-Team, and also when he's off camera.

Meanwhile, you didn't ask, but we couldn't help but notice Petty's scarf has a message for our readers. It's saying, "Don't do me like that!"

We know this is a signature look for Petty, but if you ask us, what it says is, 'I've been waiting for the Sundance Catalog to add an ascot page for years, but still no luck. I'll guess I'll use this scarf. And, uh, how do you tie an ascot again? Well, this is sort of close, right?"

Next week, we're posting a scarf-tying guide that will feature 7 ways to tie one. The Petty won't be on the list.