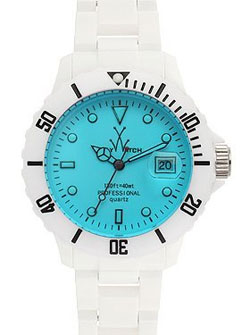 What's your take on Toy Watch? I'm feeling quite tempted to buy myself one but there's a little voice of doubt inside myself telling me to stay away...
--CD

A: Listen to that little voice, CD, because it's noticed that Toy Watch -- which look like a Rolex humped a Swatch -- was once sold at Barney's and Bergdorf Goodman, and is now available at Sears. These were watches of the moment, and that moment happened three years ago.

For just a few bucks more, buy a mechanical watch (i.e., not quartz) based on a design worn by British airmen doing battle against Hermann Göring's Luftwaffe, rather than a timepiece recommended by Ellen DeGeneres and, far more damagingly, featured on Oprah's Favorite Things.