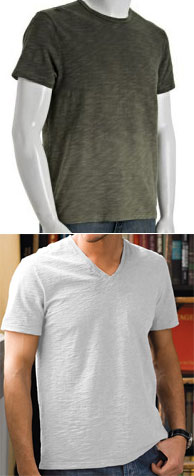 Q: I come to you for t-shirt advice. As I continue my evolution to a certified MB, I'm at a crossroads. I obviously go for the logo-less, slim-fitting tees, but I've wanted to spice up my t-shirt wardrobe lately. Outside of plain tees, what is acceptable? Please impart your wisdom.
--Pedro

A: You're on the right track, amigo. Besides logos we can also safely rule out graphics and legibility. Hence, you should avoid Project E, Tailgate, Rogues Gallery, Blue Marlin, Drifter, Monarchy, Morphine Generation, Kidrobot, and almost everything from Urban Outfitters.

Don't MB rules make life easy?

We've already expressed our fondness for the Calvin Klein T-shirt. It works in lots of situations, but certainly not all. Round out your collection with simple shirts from James Perse, NSF, Save Khaki, Barney's Co-Op, and our current favorite designer, John Varvatos. We highly recommend his slub cotton crewneck (top) and v-neck (bottom), a stylish twist on a basic.