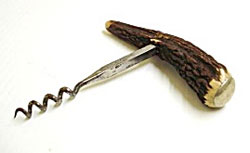 Q: I just started dating a truly Magnificent Bastard. But it seems he has everything! With Valentine's Day coming up, I'm at a loss as to what to get him (under $100 since we're new), any suggestions for an outside-the-bedroom present (he's already getting a bedroom present)?
--Jackie

A: Jackie, in this situation we have one simple rule to follow: Don't get anything that puts him in the position of overtly having to display or wear it; in other words be forced to answer the question, "Why aren't you wearing ______ tonight?" If he hates it, it can disappear into a closet or drawer and for all you know he uses it every day. This means no clothes or personal furnishings or any display-necessary housewares. So ties, wallets, thumb rings, and placemats are all out.

Poke around at a couple of our favorite four-letter design boutiques, Moss and Good. If you come up empty, visit your favorite antique shop and you're certain to find a one-of-a-kind MB-worthy item he doesn't already own. After a few minutes of Googling we unearthed this elk-horn corkscrew that isn't just an excellent addition to any bar, it distinctly foreshadows the "in the bedroom" present.