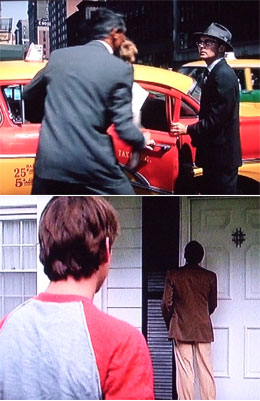 Q: NO VENT, DOUBLE VENT, SINGLE VENT? It seems double vents are still really popular. I am tall and like no vent with three button, flat front or two button, flat front with single vent. I like a clean, smooth line like Armani or Boss. Some friends say I am out of it. They feel the only thing that is current is double vent. I disagree and will wear what I think I look best in and I still believe I am current. What do you think?
—Larry

A: Single vents are safe and never out of style; let's start there. We're definitely not a fan of the no-vent, though it's hard to argue with Cary Grant in North By Northwest (top) as he's about as stylish as a man can get. So if you think you're hitting it like Cary then carry on, Larry. The problem with no-vent is it's really easy to start looking like Guido the Killer Pimp from Risky Business (bottom).

Your friends are correct about double vents, and not just because they think they're current. We like them for two big reasons:


1. Double vents are an Anglophilic gesture -- they were invented there -- and moderate-to-heavy Anglophilia is very MB.

2. Double vents create a "flap" which, when activated, creates the illusion of a man of action, intrigue, and dramatic flair, even if you just sit on your ass in a cube most of the day.