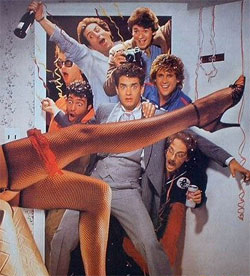 Q: Etiquette question: I've been invited to the wedding and bachelor party of a friend from college. I can't make the wedding (another, better friend is getting married a week later. I can only afford one cross country flight.) Is it poor taste to attend just the (local) bachelor party? Also: I've only received a "Save the Date" from the bride. Should I contact them now or wait for the invitation and the RSVP?
--Mike

A: Mike, this is a sticky situation, but we've got a solution:

Option A: Telling the truth. Pleading poverty is very un-MB, so don't do it.

Option B: Not attending. You'll have to come up with another Emily Post-sounding excuse not to attend the bachelor party. Which leaves the only logical choice:

Option C: Get disinvited from the wedding. Have a wicked good time at the bachelor party, take a bunch of pictures and post them Facebook. Then "accidentally" unblock them. Oops! It was an honest mistake! Plus it takes care of that wedding "Save the Date" / RSVP situation.

It's acceptable to send a gift.