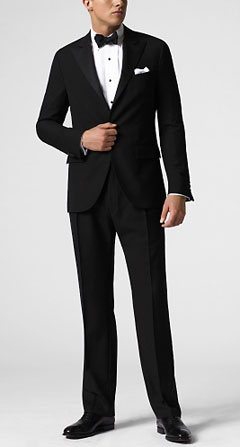 Q: My fiancé and I are getting married Labor Day weekend, and want to ensure that our wedding meets MB standards. It is black tie and called for 5:00 Sunday evening. Only problem: what's the most bastardly tuxedo my fiancé should wear? How can he distinguish himself from the black-tie wearing guests with a formal and elegant tuxedo?
--Dina

A: Hon, the most Magnificent Bastardly thing to do is elope. We understand that might not be possible with mother issues and perhaps a few issues of your own, but that's the truth.

Anyhow, about the tuxedo for your wedding that's going to happen on Labor Day Sunday at 5:00 ... this is where the MB's affection for "classic-with-a-twist" takes a backseat to just plain classic. In 100 years, when you're dead and your great-grandkids nail pictures of your wedding on the wall, you're going to want them to stand the test of time. So, instead of something classic with a twist from Dolce & Gabbana or Paul Smith, we'd suggest Ralph Lauren's Classic Tuxedo. Clean, simple, double vent, flap pockets, flat fronts ... you -- or more specifically your fiancé -- can wear this one for life.

In case you're wondering about what kind of ring to wear, we've also recently covered that, too.