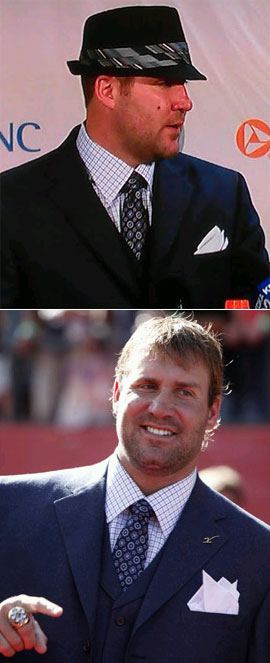 Q: Ben Roethlisberger, post game news conference, WTF?
—Wade

A: Big Ben clearly has a hat that's Too Tiny, enhancing the size of his already large and increasingly flabby melon, one that has more chins than the number of TDs he threw against Denver on Sunday.

What struck us though, besides the fact that Roethlisberger bothered to wear something besides an untucked sport shirt, is that this is the same outfit he wore to the ESPY awards in July, 2009, 2½ years ago (below). It's true he's a Hall of Fame toolbag, but you'd think a guy who made $12 million this year would not recycle a dated three-piece suit and prepackaged shirt/tie/pocket square combo he probably picked up at TJ Maxx for $19.99.

As for the vest Tim Tebow was wearing after the game, we've had a few questions about the brand and model and we're researching it. Tebow has definitely stepped up his game since his jorts days at Florida.